Swaledale Woodland Project: Introduction
For many years Tim Laurie has been investigating the archaeologically rich dales landscape, centered on Swaledale but also extending into the neighbouring dales of Wensleydale and Teesdale. Early work in the 1980's with Andrew Fleming on Swaledale Ancient Land Boundaries Project - Interim Reports lead Tim to recognise the importance of relic and ancient trees within the dales landscape, and the previously unrecognised presence of indicator species from the post glacial era, particularly within Swaledale. Tim's Swaledale Woodland Project is an on-going project, and whilst the project's data can be found in this database (© Tim Laurie) it will be published as reports both in Tim's publications and elsewhere. Contact Tim here.
The Swaledale Woodland Project data present within the SWAAG database has been broken down into 3 Levels:
Level 1: Geographical areas (1 record describing each of the 6 areas found on the map and in the list box below).
Level 2: Individual Tree Sites Records within each geographical area.
Level 3: Individual Tree Records within a Tree Site Record.
There are: 173 Tree Site records and 38 Tree records. Current priority is being given to adding Tree Site records.
Not all Tree Site Records are not large enough to contain individual Tree Records.
Whilst these records are available to be viewed by other SWAAG search options found here, all three 'Record Levels' can only be easily viewed by selecting one of the 6 study areas from the map below.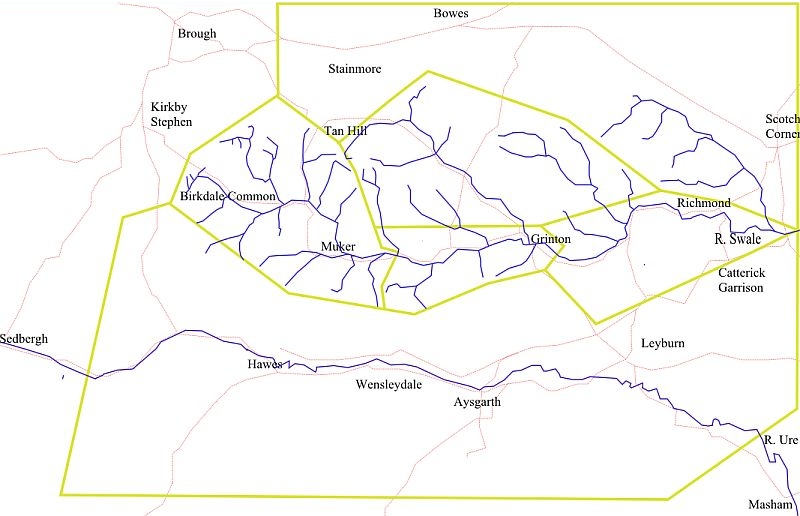 Click the map or the link beside the record count:
---