This Blog is going to be kept in chronological order, so click these links to go to a particular day:
November
:
5th
6th
7th
8th
9th
Backfill day

July 2012 trenches: Trench 1 (right) and Trench 2 (left) orange boxes are the new trenches started November 5th 2012.
Day 1 Nov 5th
A frosty start developed into an ideal excavation day with lovely warm sunshine in the afternoon. I suspect today will turn out to be the best day weather-wise this week.
Two trenches were opened. The main trench is a 7x8 metre western extension to July's Trench 2. This covers an area that we couldn't explore last July as we sited the spoil heap there. The second trench is an exploratory trench across what may be the enclosure outer wall to the north towards an area the resistivity identified. below are 3 photographs of each trench. Trench 4 extension first followed by the smaller 5x2 metre Trench 4. Thanks to

Hugh from Darlington in joining us for the day. It was his first dig and I think enjoyed himself even after so much deturfing.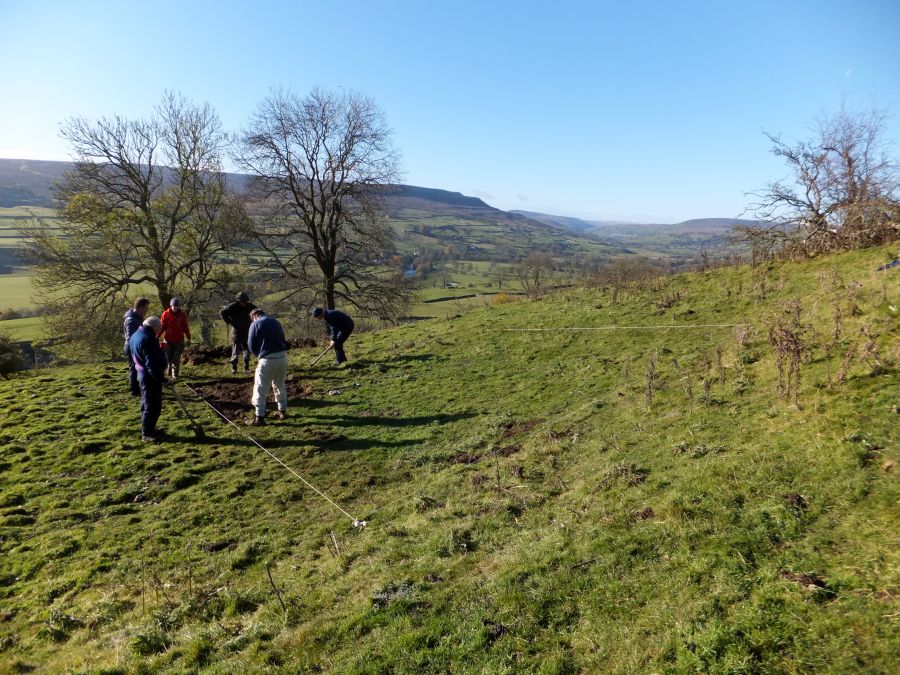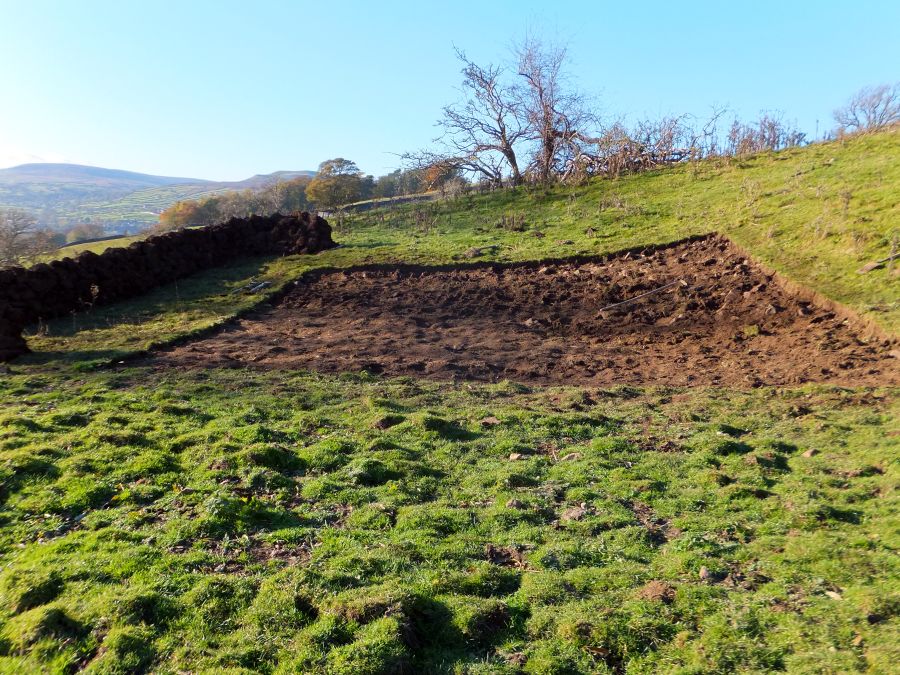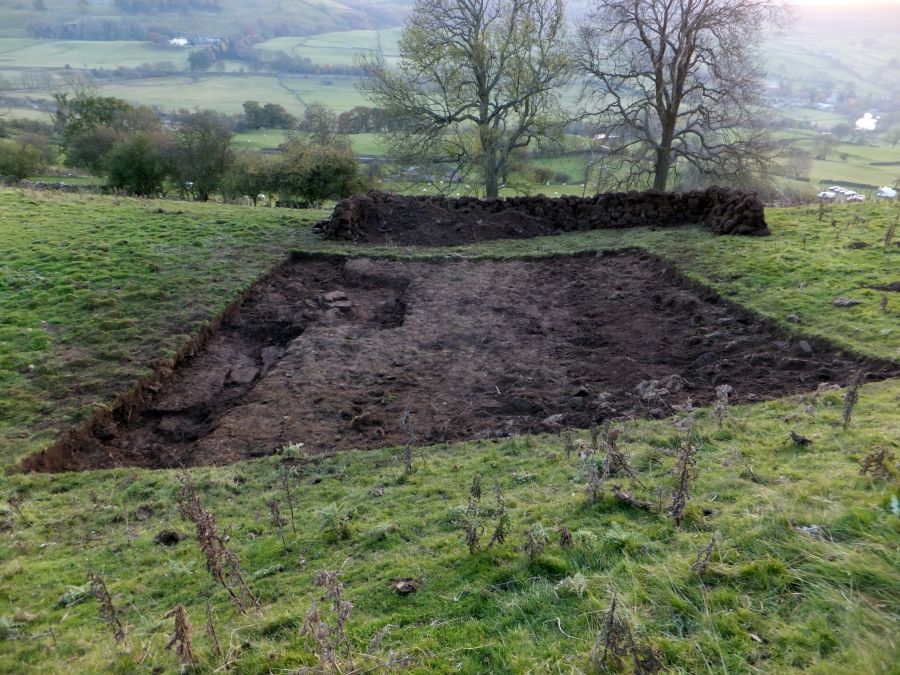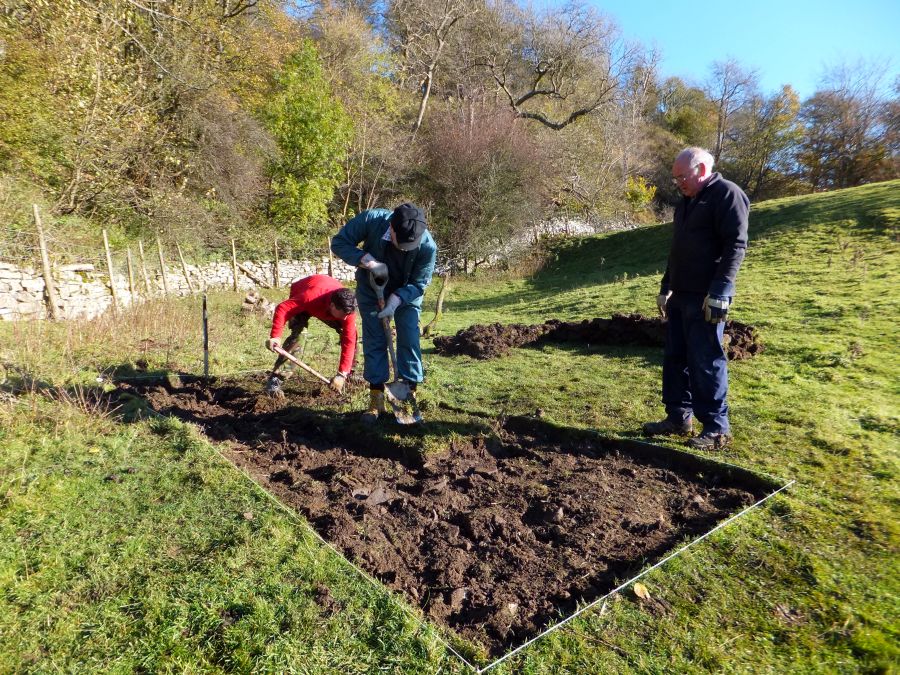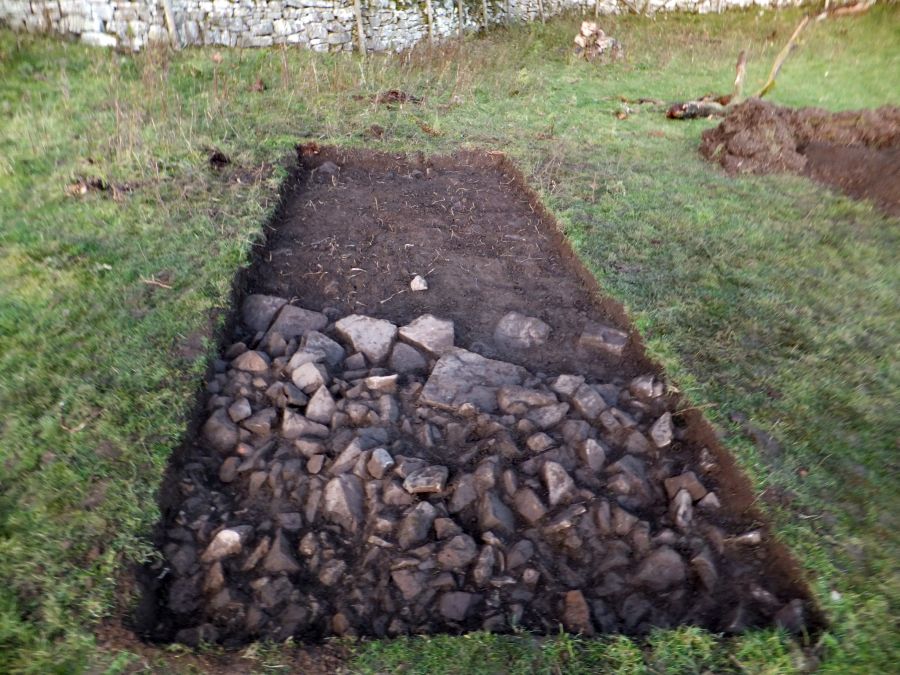 Day 2 Nov 6th
The weather forecast was pretty accurate today with periods of light rain particularly around lunchtime, however we worked through it.
A lot of hard work was done particularly in the larger Trench 2 extension, as you can see from the size of the spoil heap. All done be hand no Time Team JCB's here!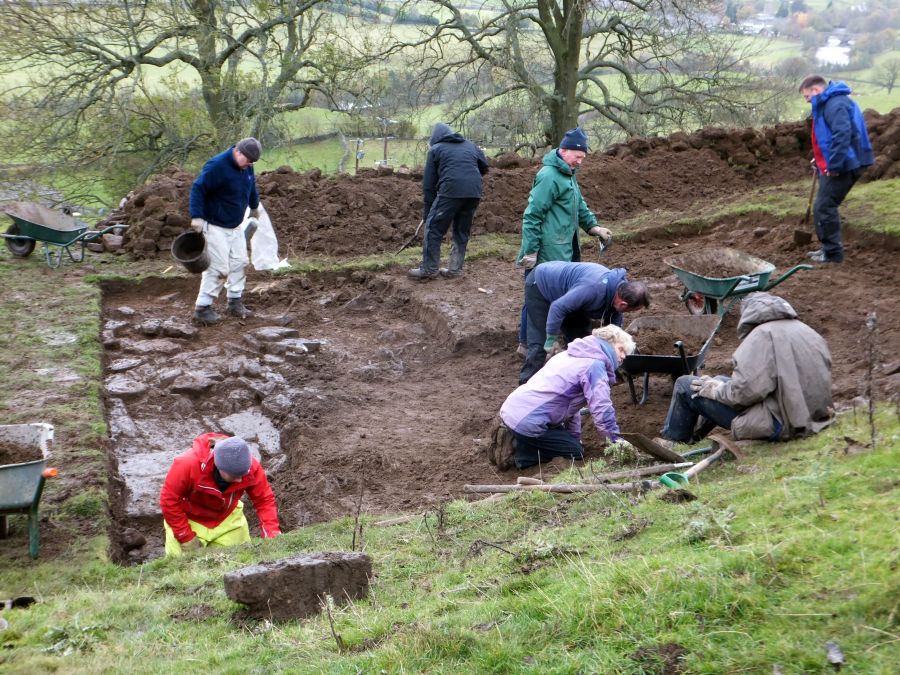 The round house we uncovered in July is seen on the left (see July's blog) and we are now uncovering for the first time structures further to the west. It is a slow process as there is a good depth of soil to excavate.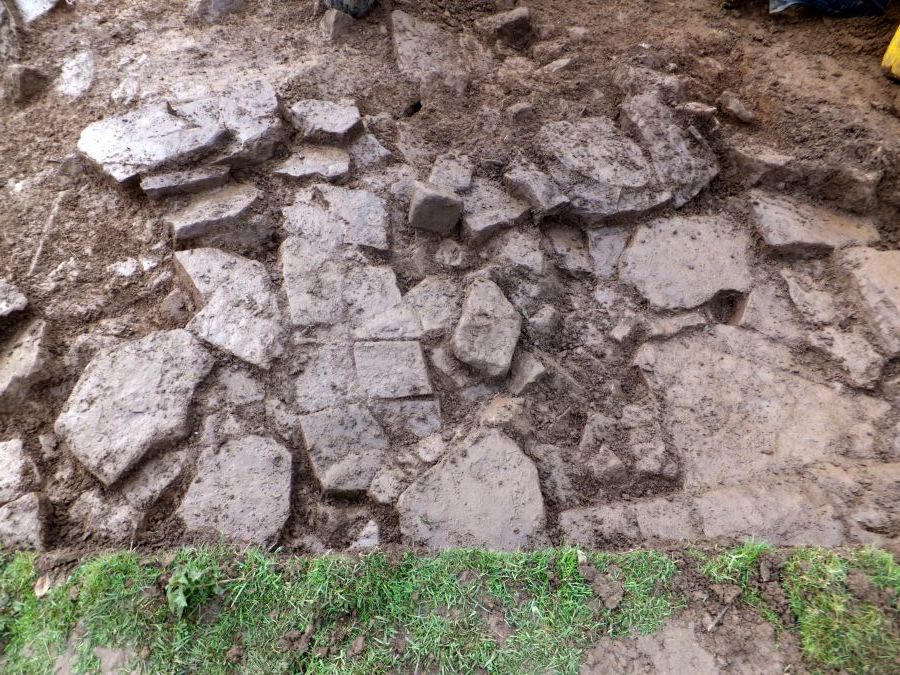 This image shows some of the new structures that we have uncovered so far in Trench 2.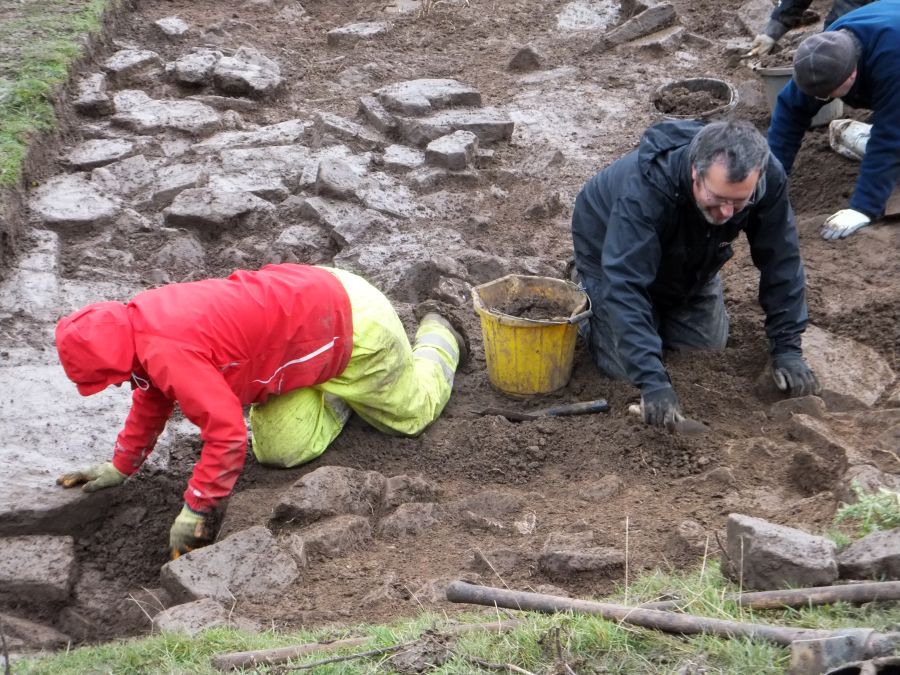 Stephanie and Tony from Archaeology Services Durham University helping out in Trench 2.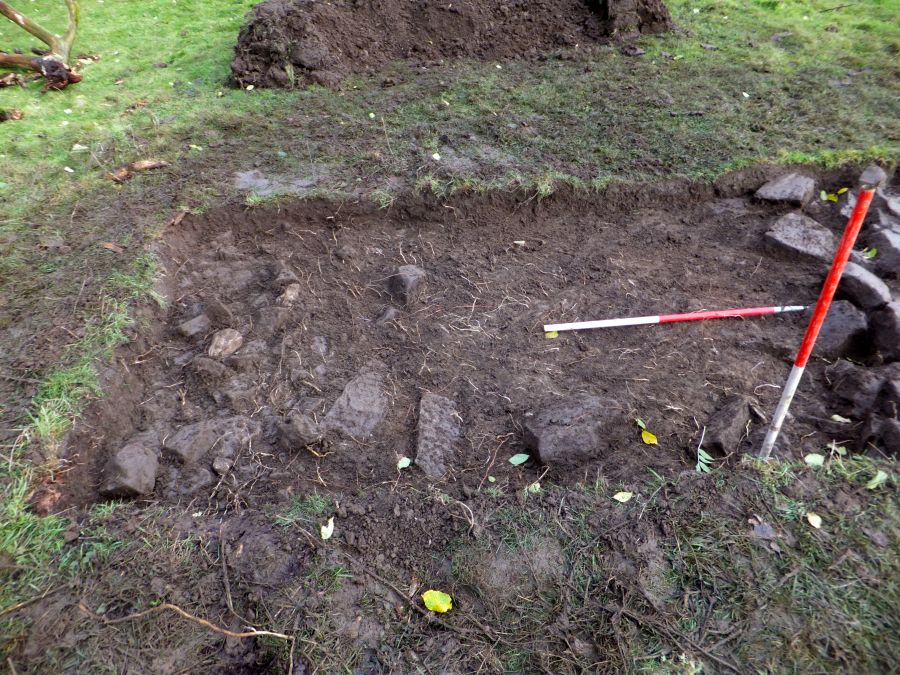 This shows the top end of Trench 4 where some larger stones are gradually appearing amongst the nettle roots.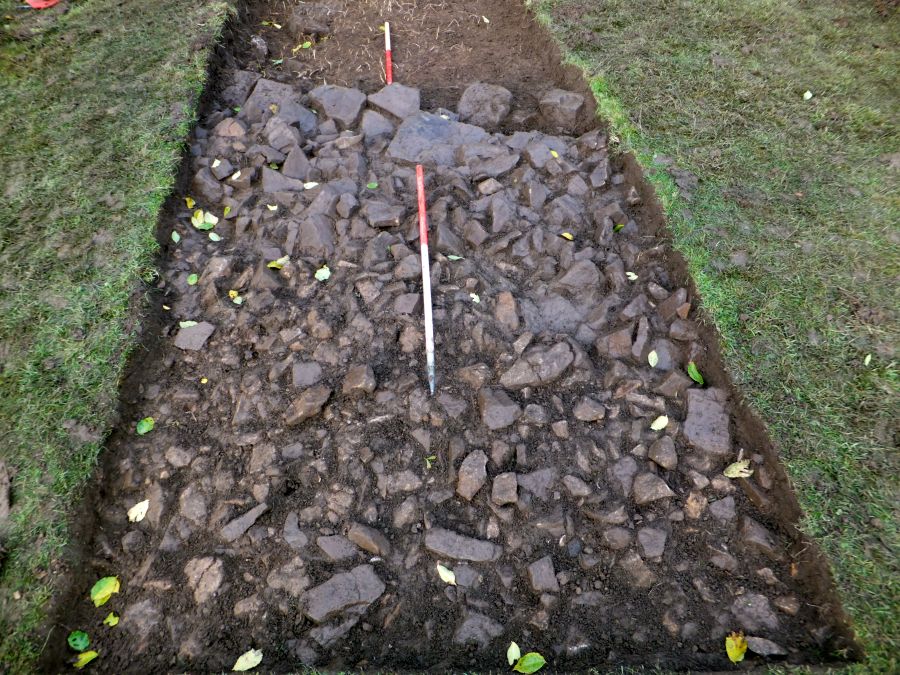 The southern end of Trench 4 was extended by a metre today. It appears that the darker stone at the top of the image with the clear edge appears to be a wall foundation, probably a enclosure wall around the settlement. The lighter coloured stone below the wall may be a cobbled surface inside the enclosure.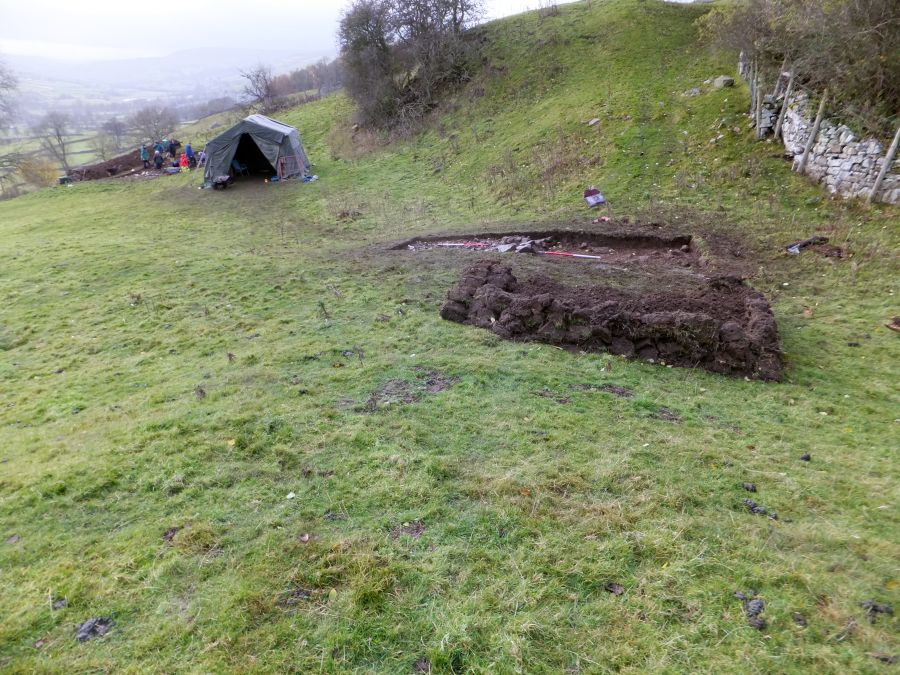 This image shows the relative positions of the two trenches and how the wall foundation in Trench 4 appears to line up with the left-hand edge of the grassy track up the hill to where the nearest spring is located about 200 metres away.
Day 3 Nov 7th
Wednesday dawned a dry but fresh day although the dig site doesn't get the full force of the wind. An excellent day all round with a 'Dustin Double' when he first found a jet ring followed an hour or two later with what appears to be some form of clasp. We start today with Trench 4 images: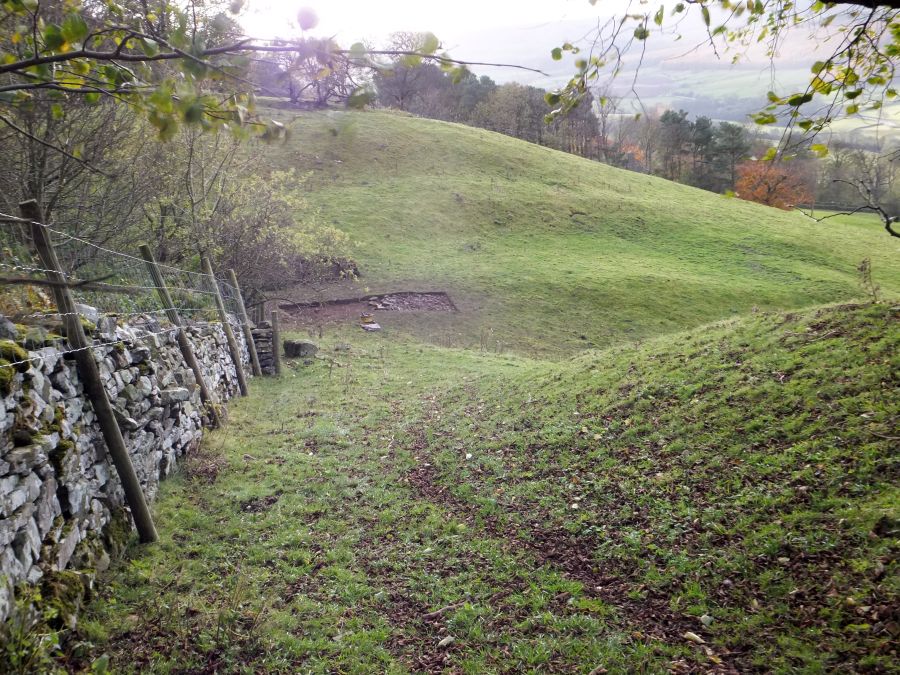 Trench 4 from the trackway towards the spring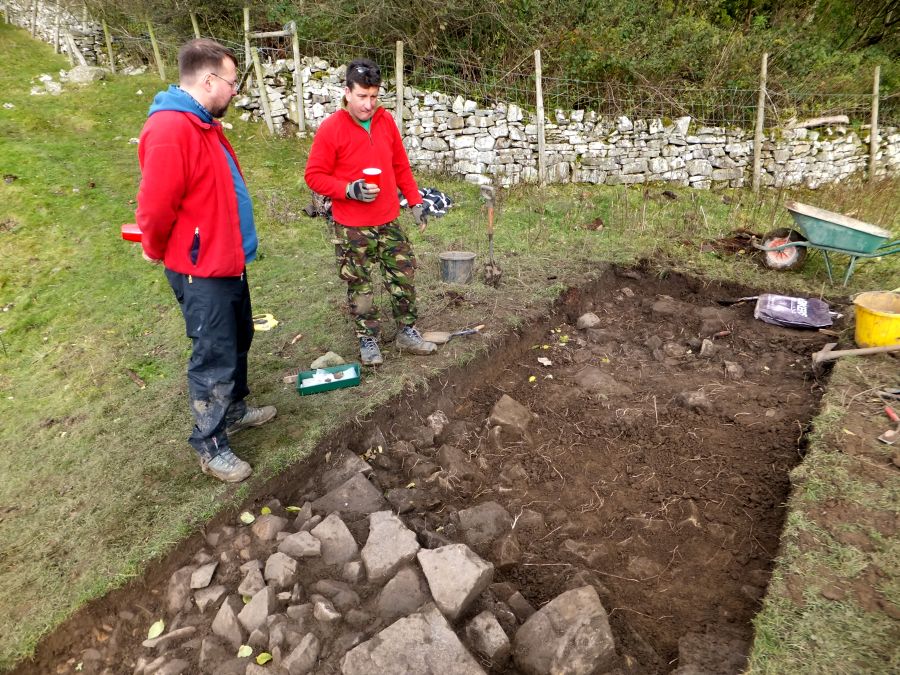 Philip and Justin considering whether the wall was straight or curving.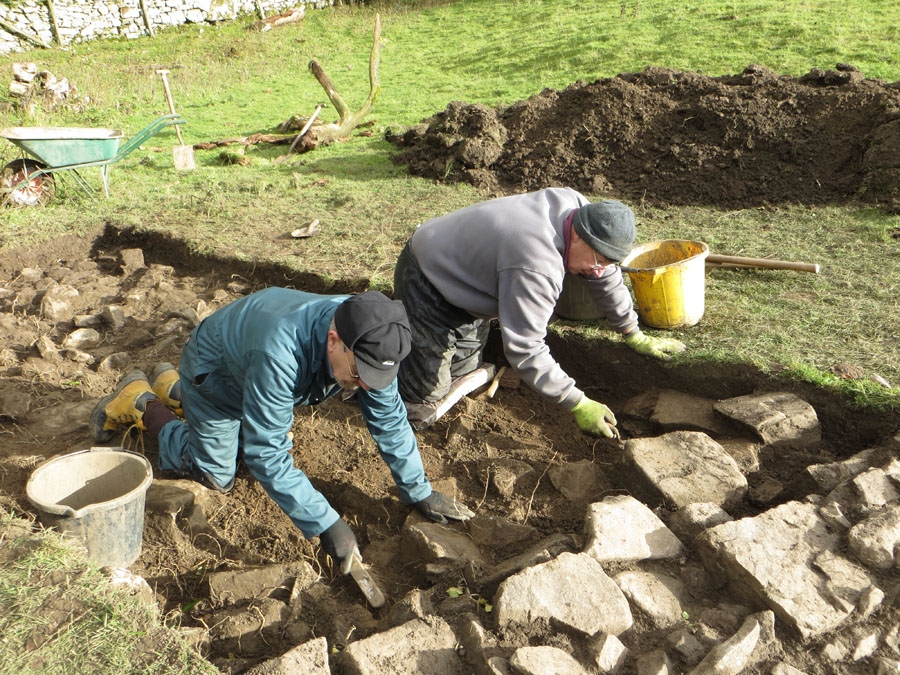 Graham and Stephen working Trench 4. Photo Mike Walton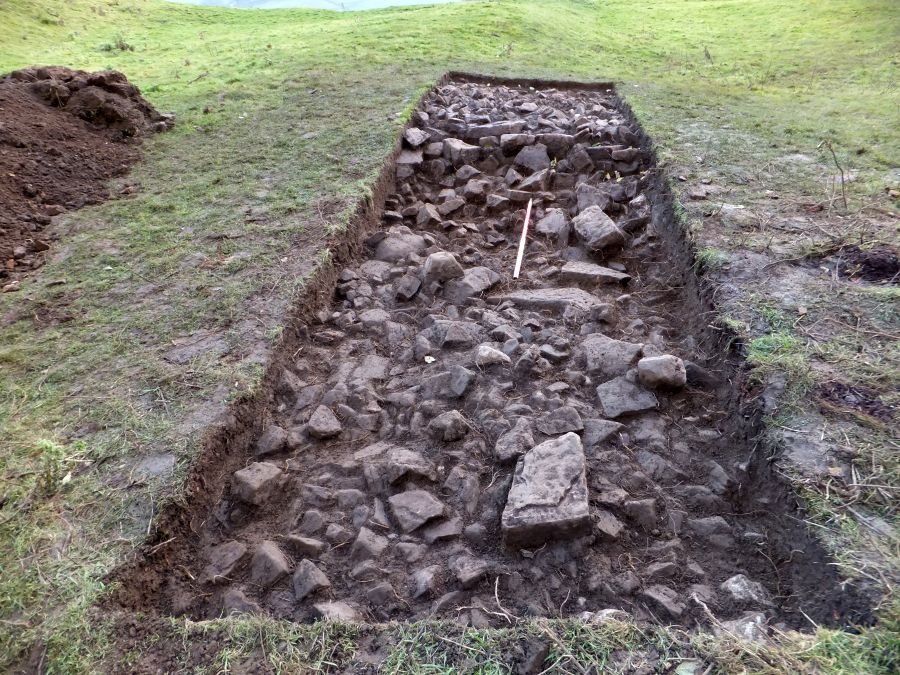 All ready to draw: looking south west. The end nearest the camera having been extended by one metre. (7x2 metres now)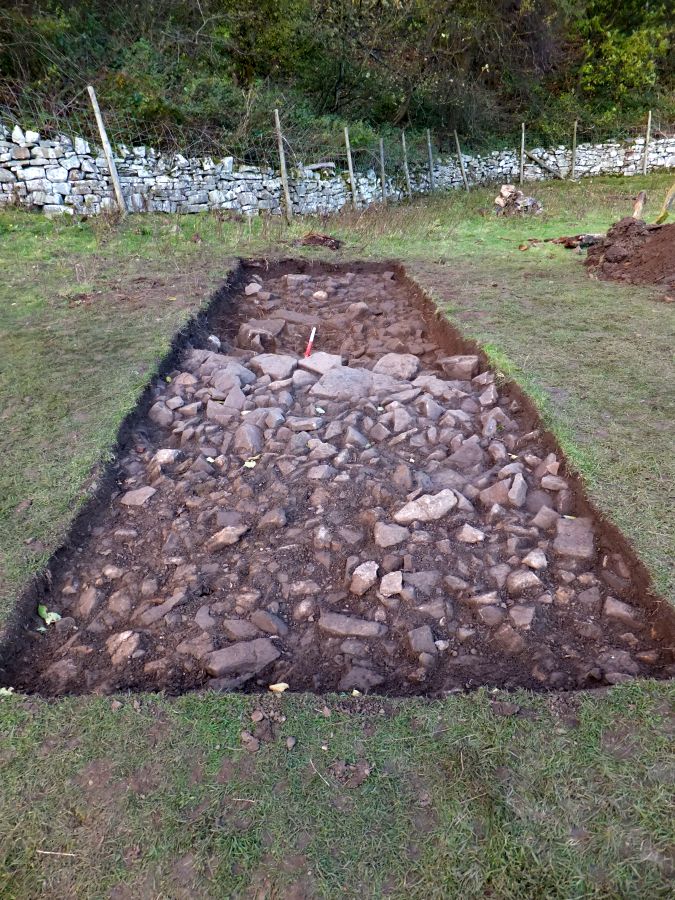 All ready to draw: looking north east.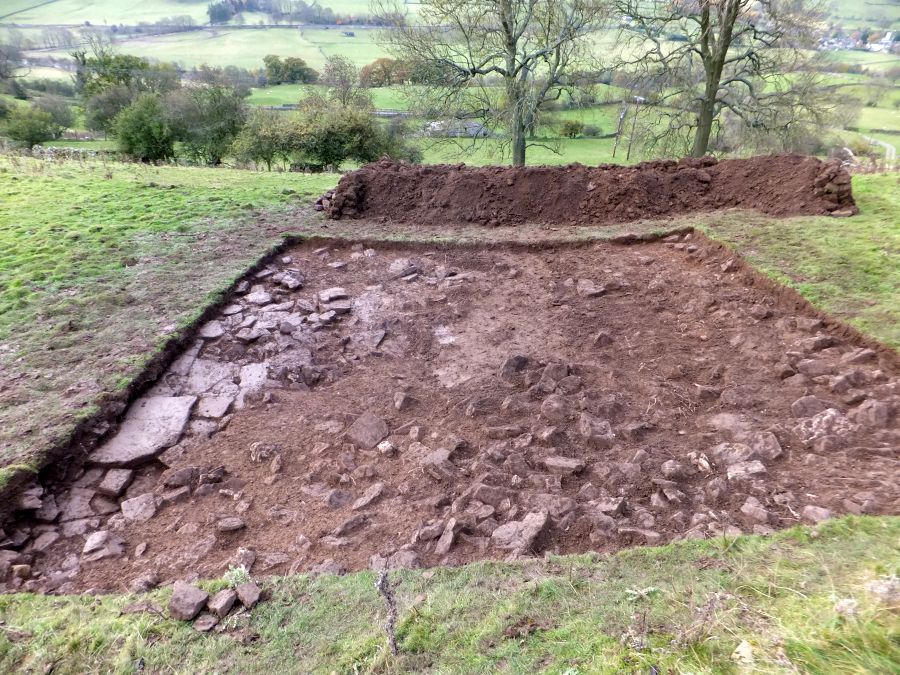 Trench 2 before work started this morning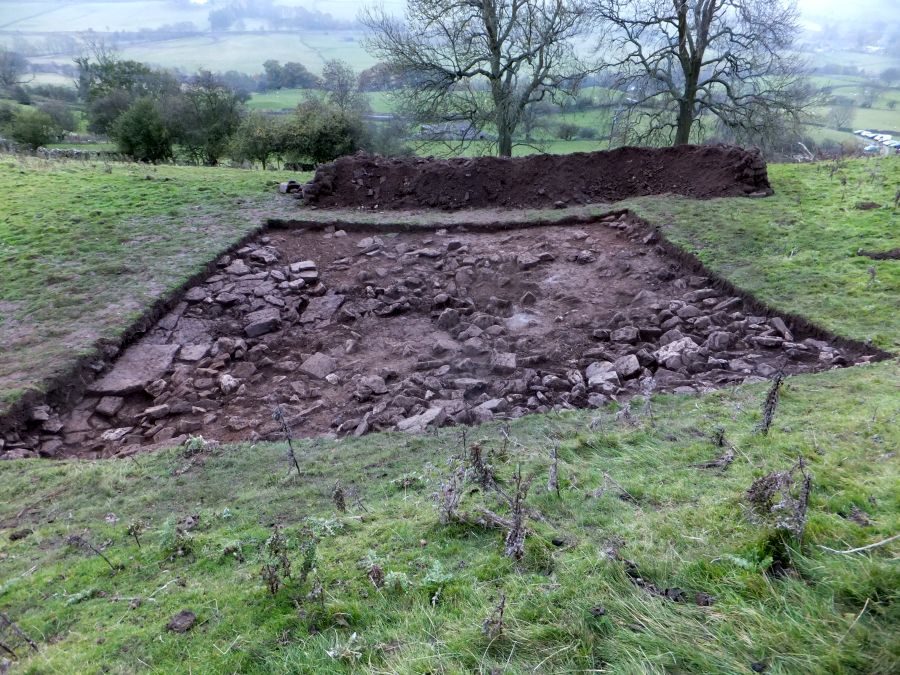 Trench 2 at the end of the day.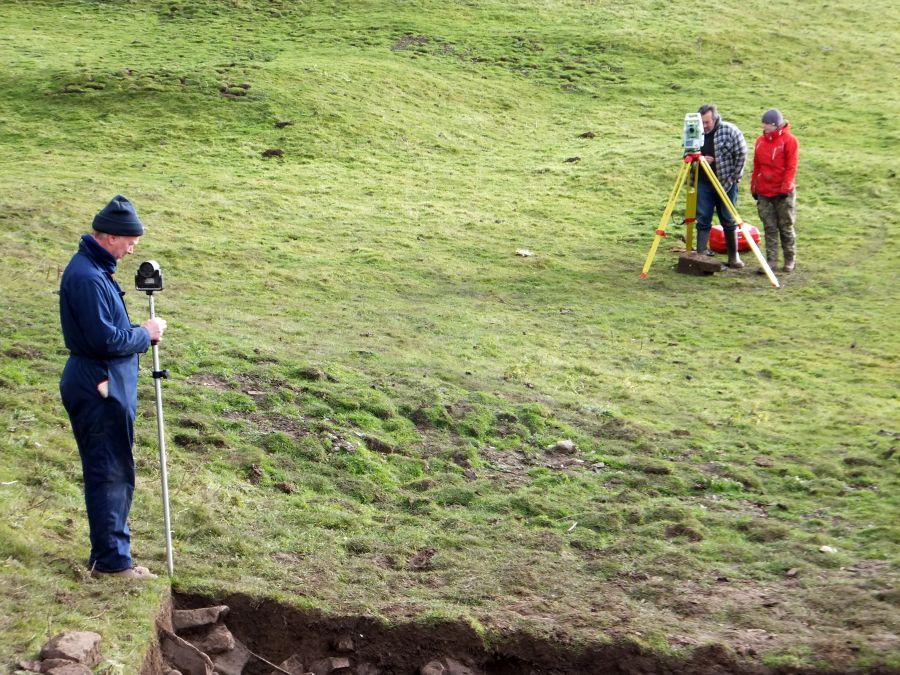 Mike helping Tony and Stephanie with the Total station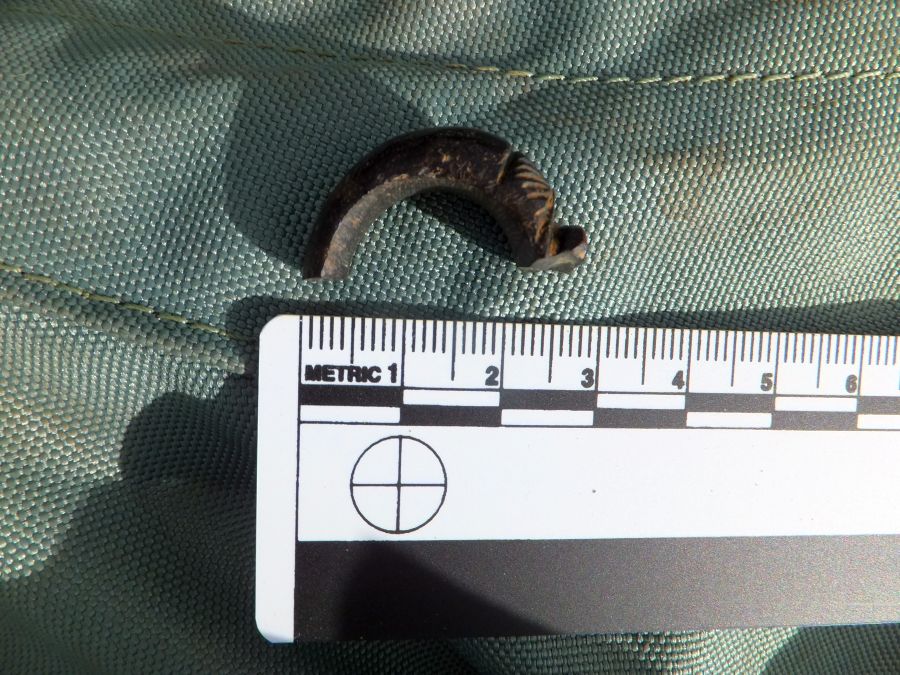 Jet ring found by Dustin (5 images)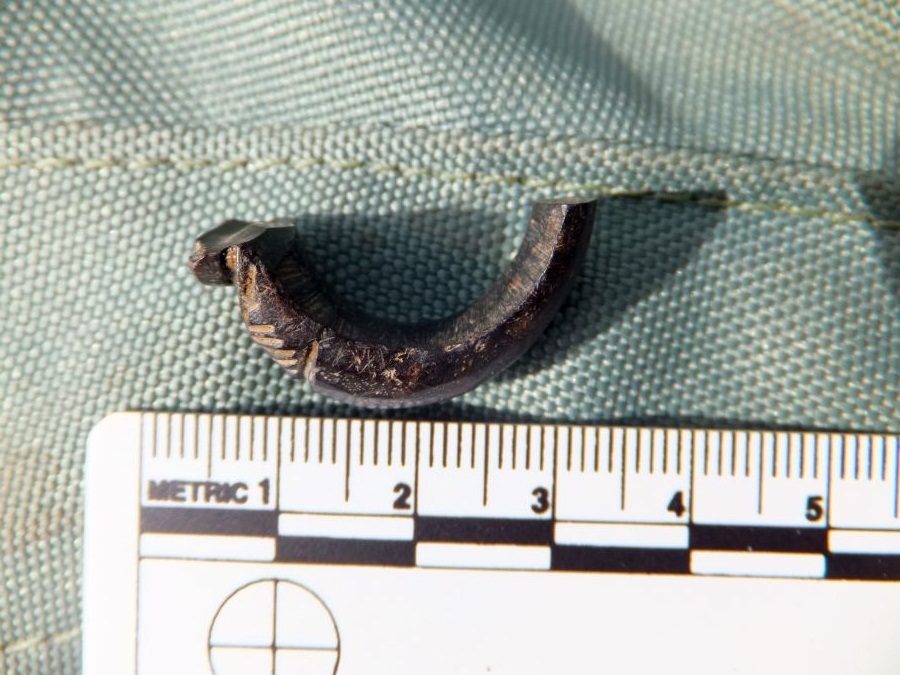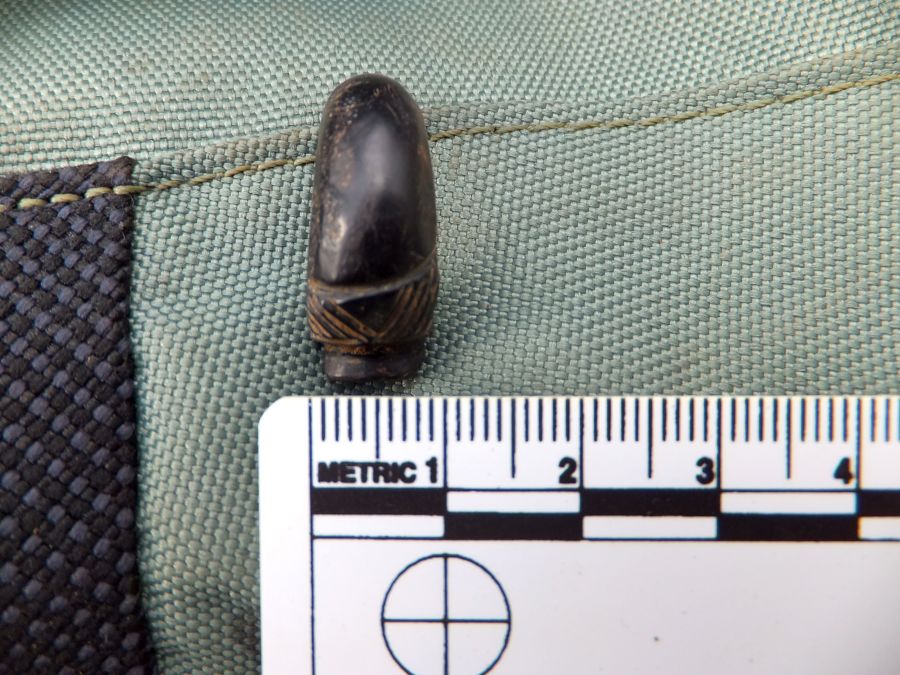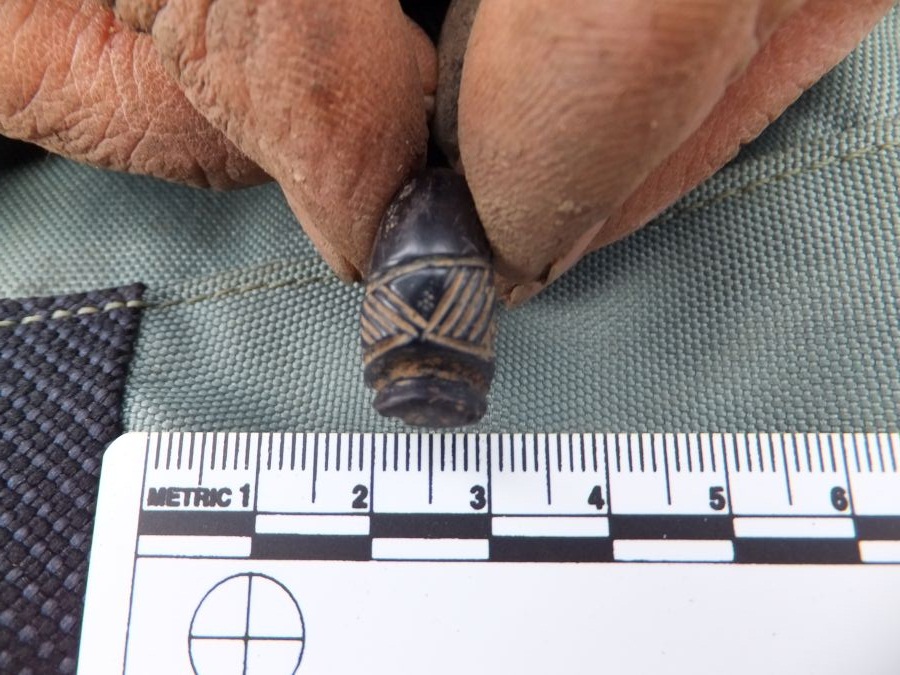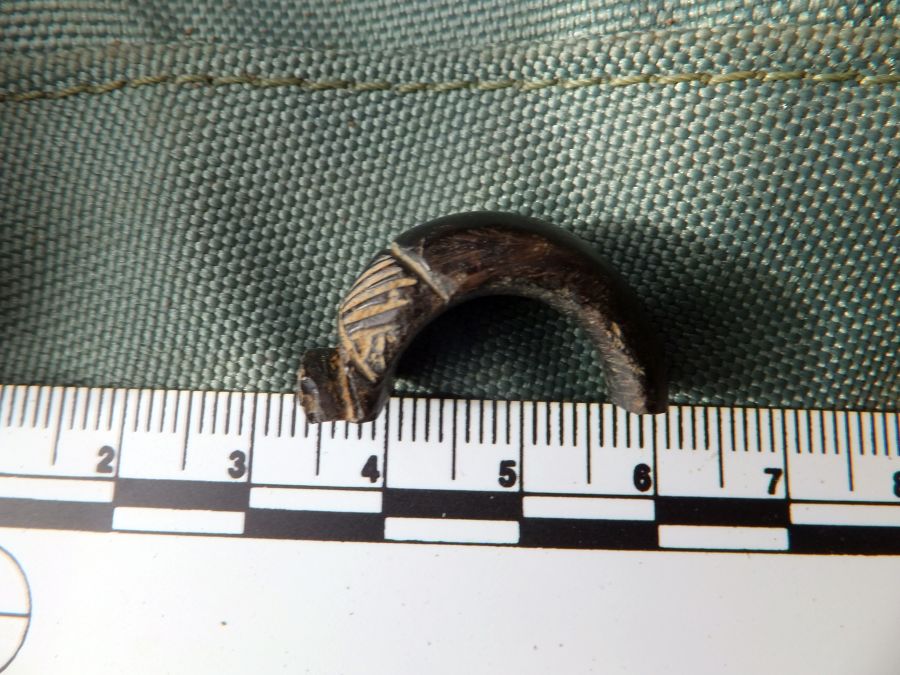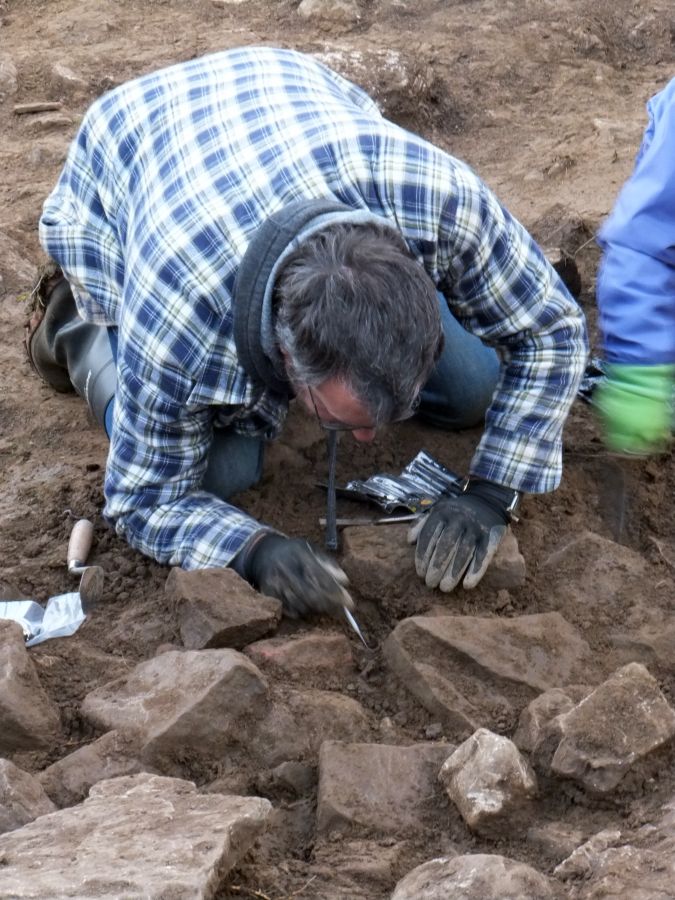 Tony Liddell (ASDU) excavating the 'clasp/tweezers' that Dustin found. See the next 2 images of the 'clasp/tweezers'.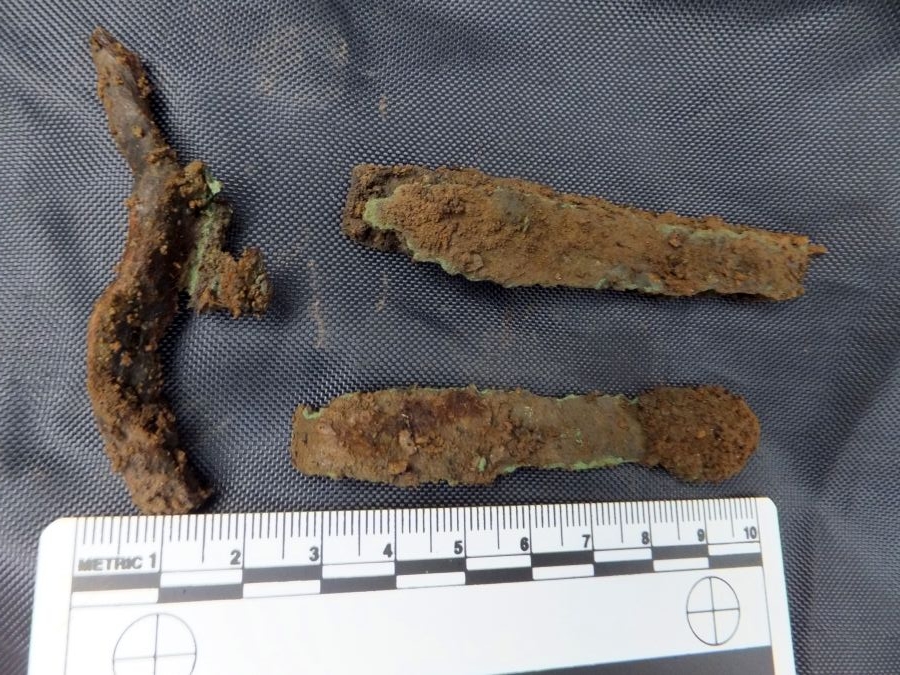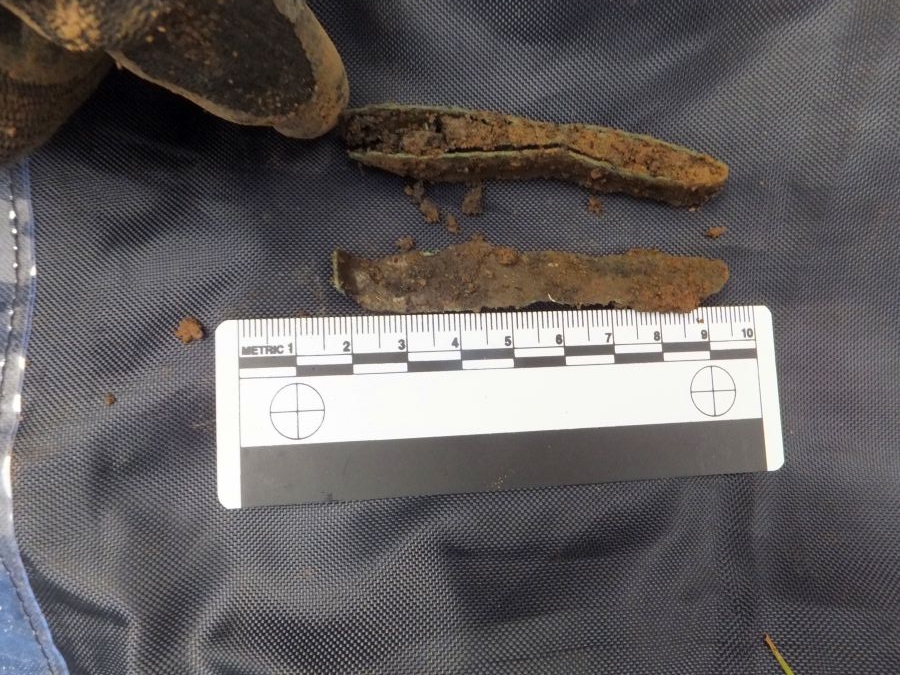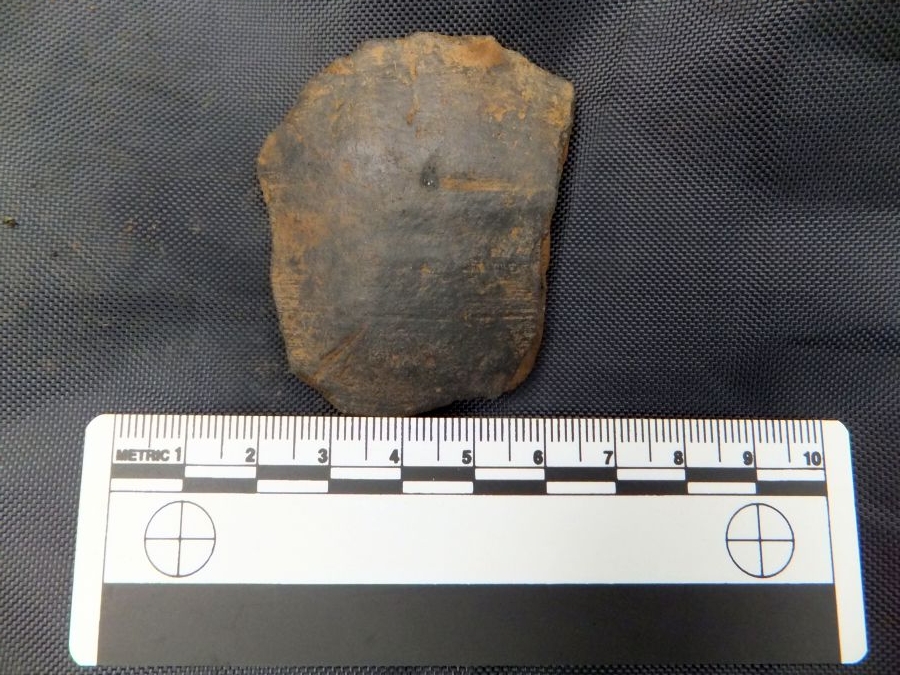 Typical piece of native Romano-British pottery found on this site.

Day 4 Nov 8th
Another good day at Hagg Farm with 15 images to look at starting with Trench 4. We recorded what we had uncovered, and decided to take the central section between the wall and the secondary apparent edge, down another level having removed the top layer of 'tumbled stones'. In the middle there was a distinct more organic area which we sampled. Whilst Philip was doing this it became apparent that he had found a post hole.
beside the post hole two small pieces of black burnished ware were also found.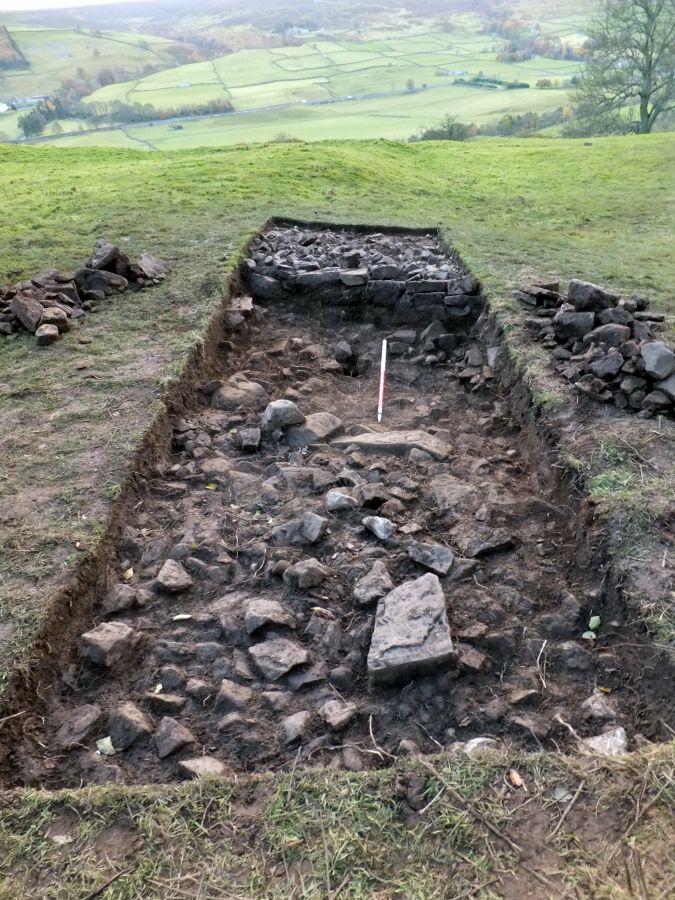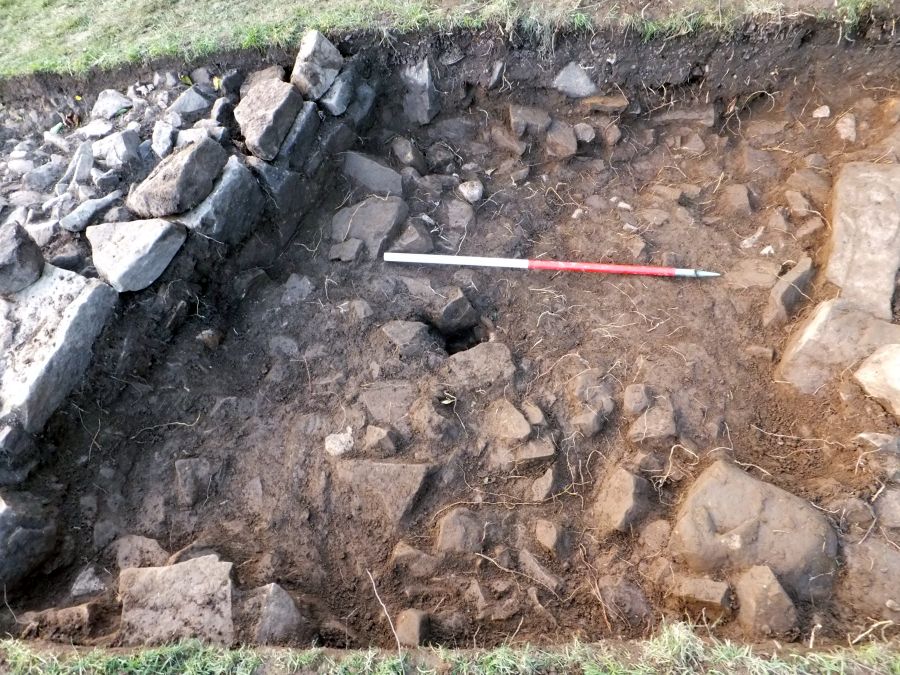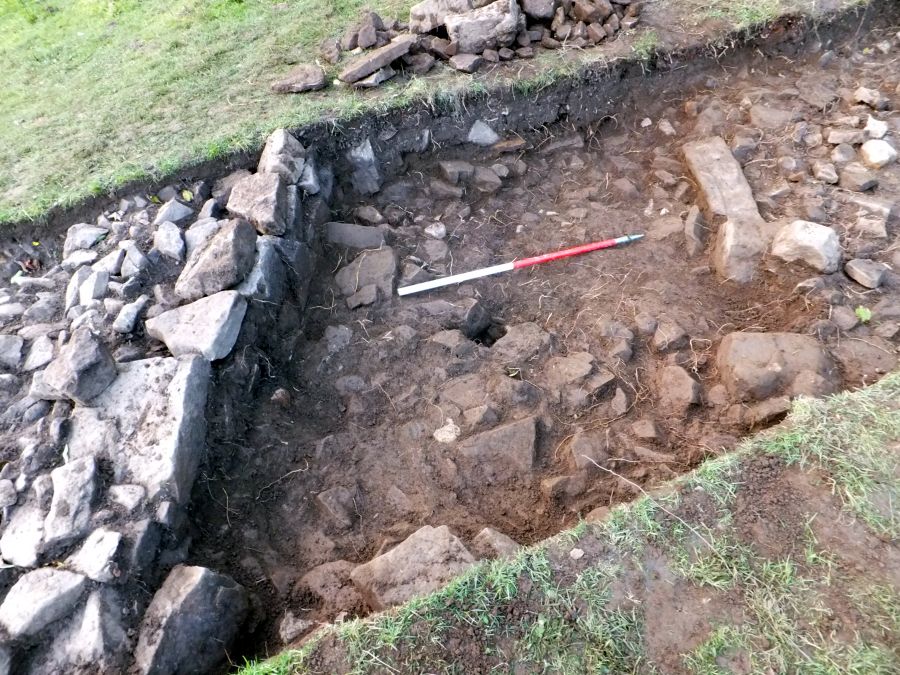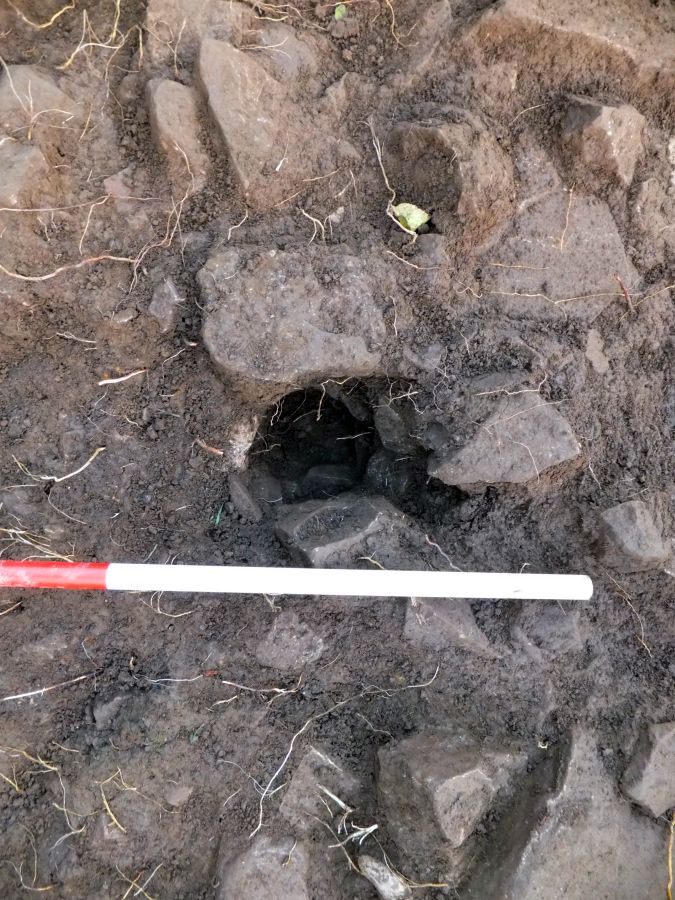 So on to Trench 2: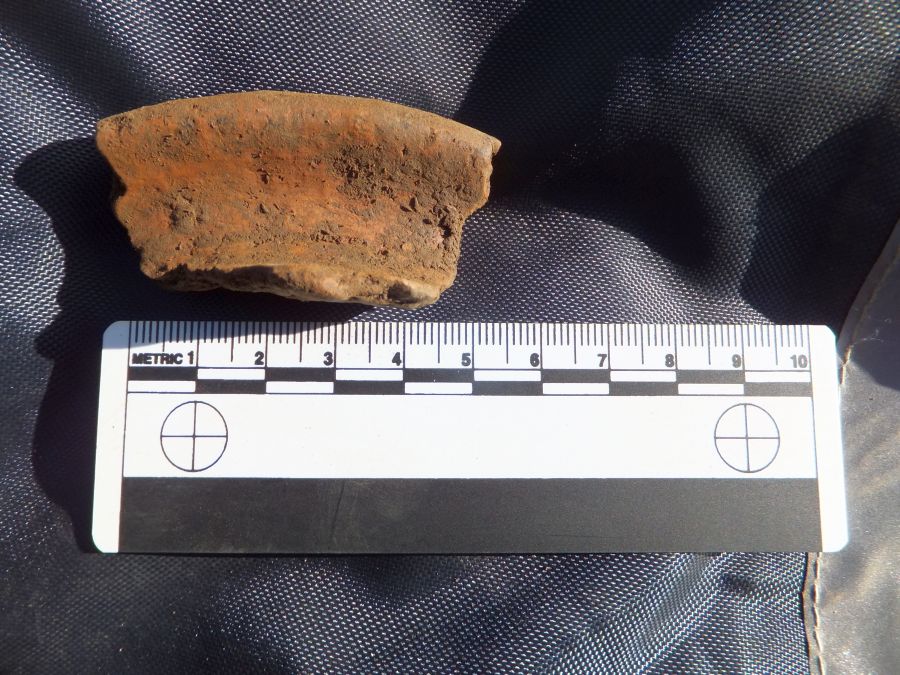 First of two pottery rims found today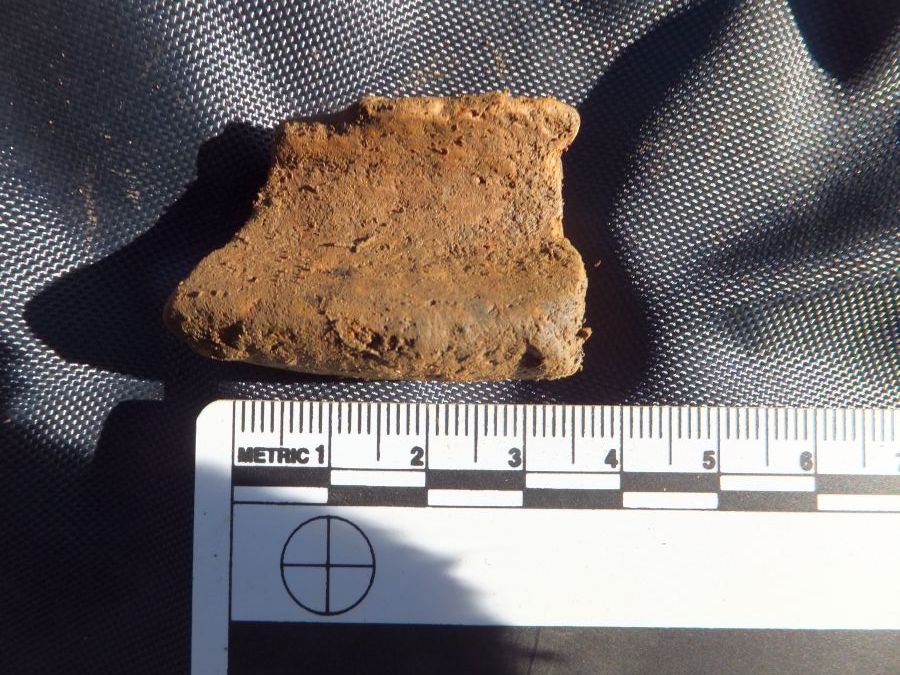 Second rim.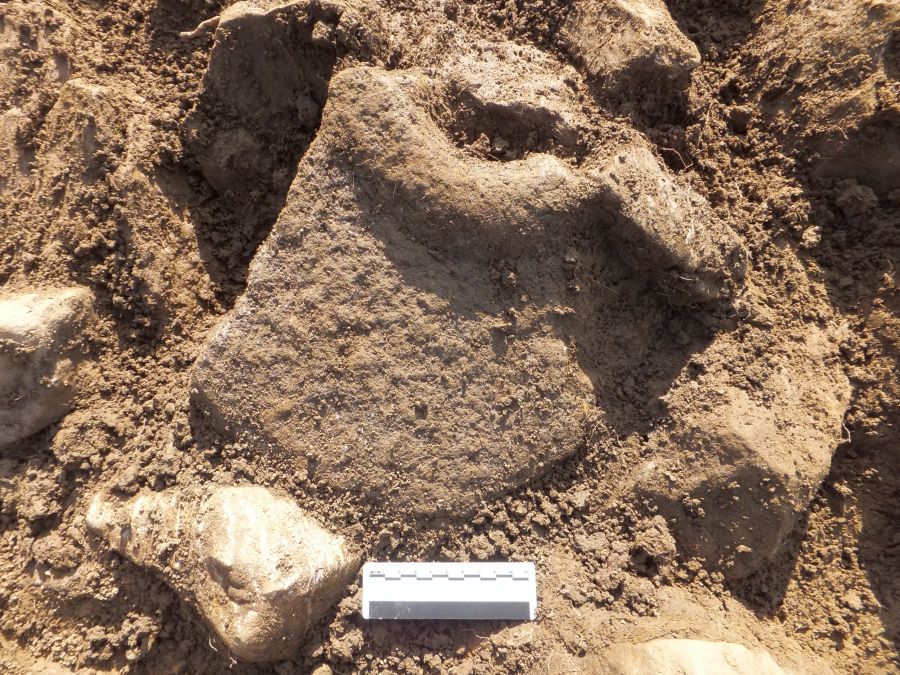 Our first quernstone insitu excavated at this site although one was found in a drystone wall elsewhere on Hagg Farm some time ago.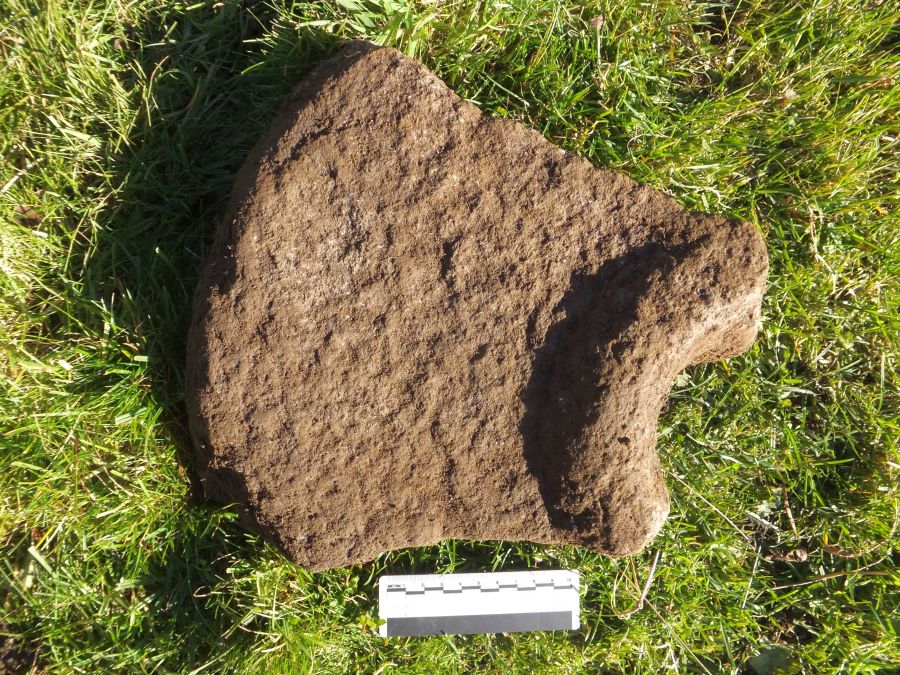 The quernstone approximately 420mm diameter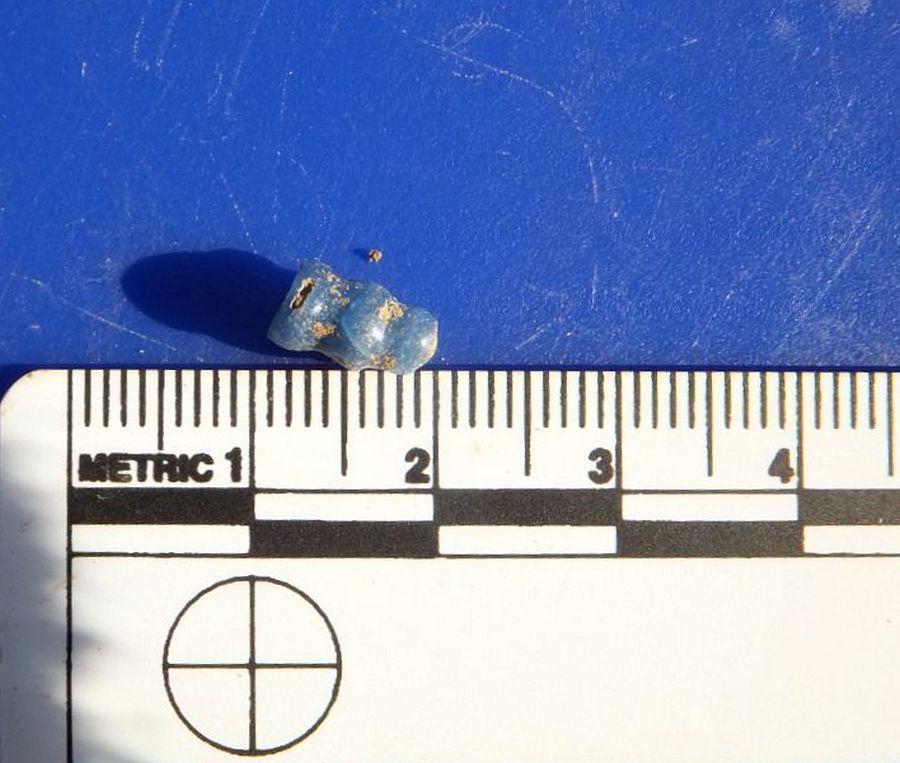 A lovely small blue bead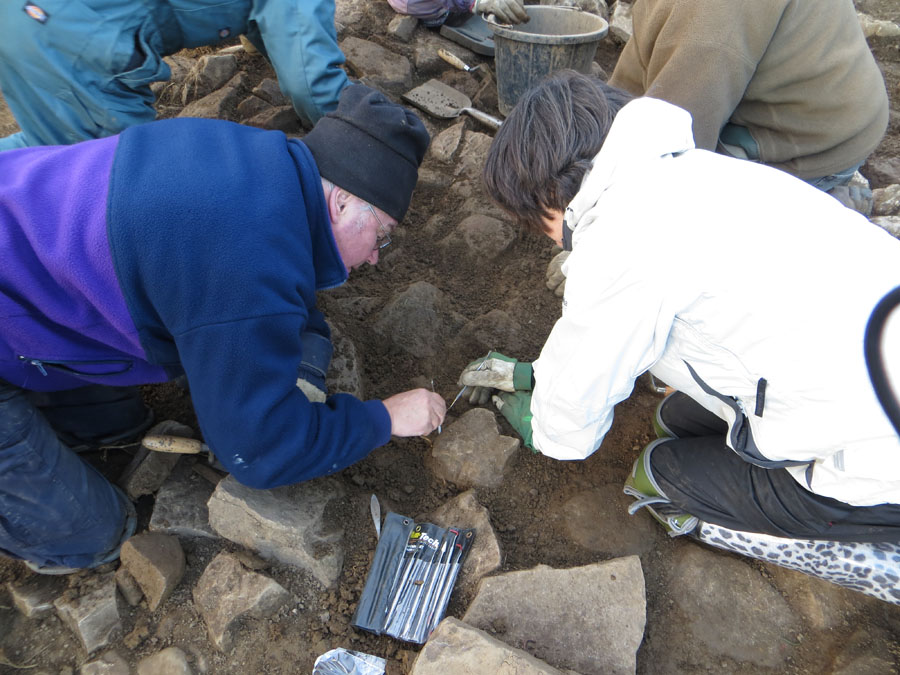 Ann and David carefully excavating another pottery fragments - see next image below: Photos Mike Walton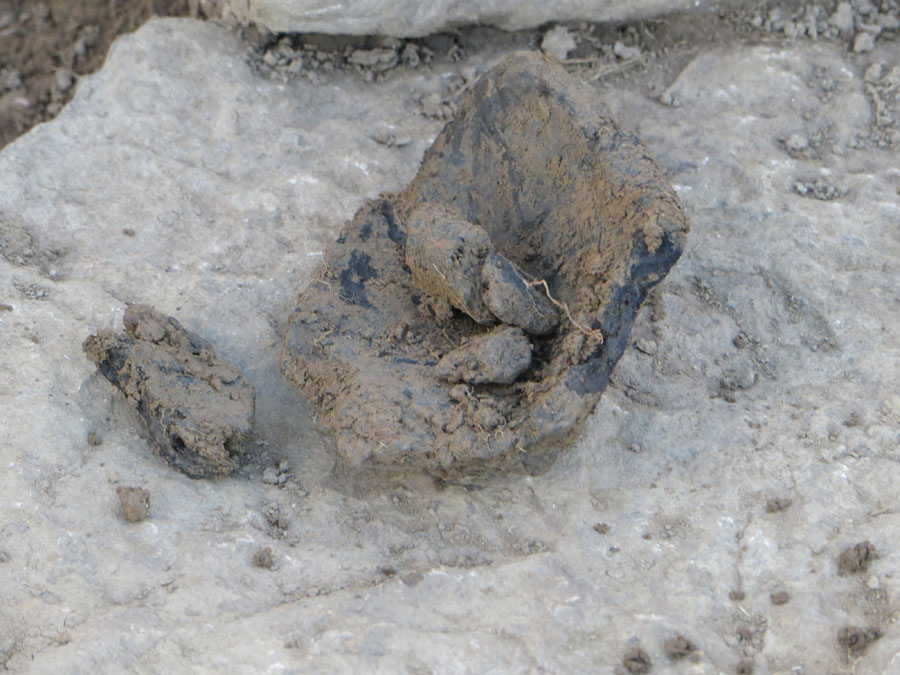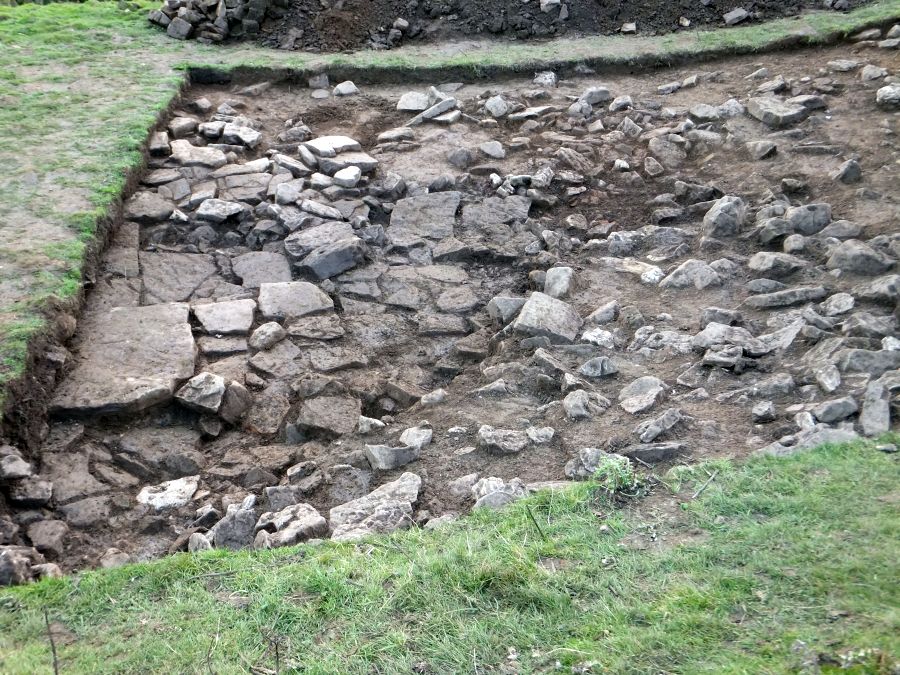 The eastern end of Trench 2 above and the next three images.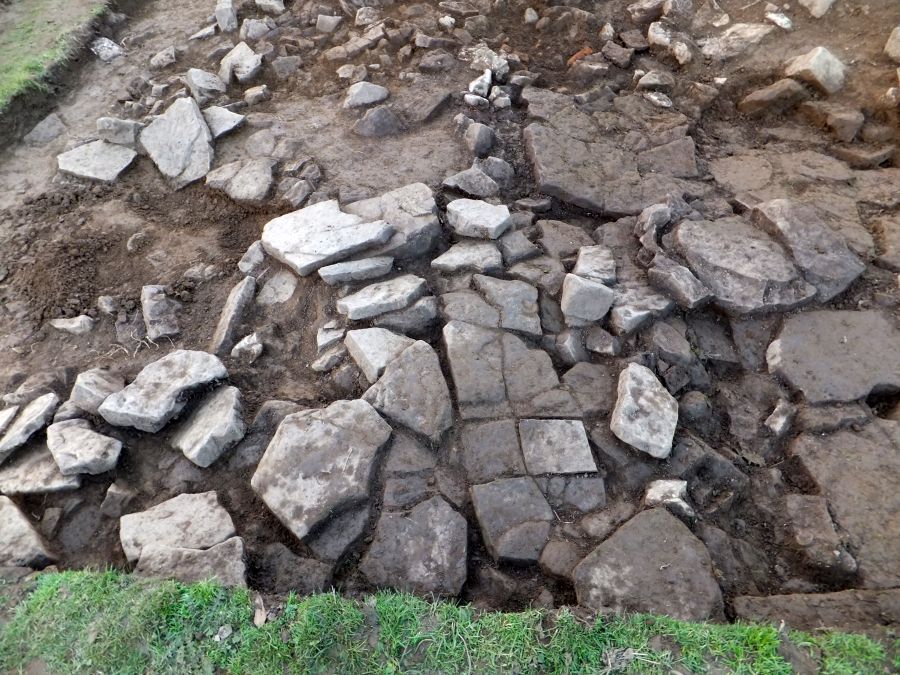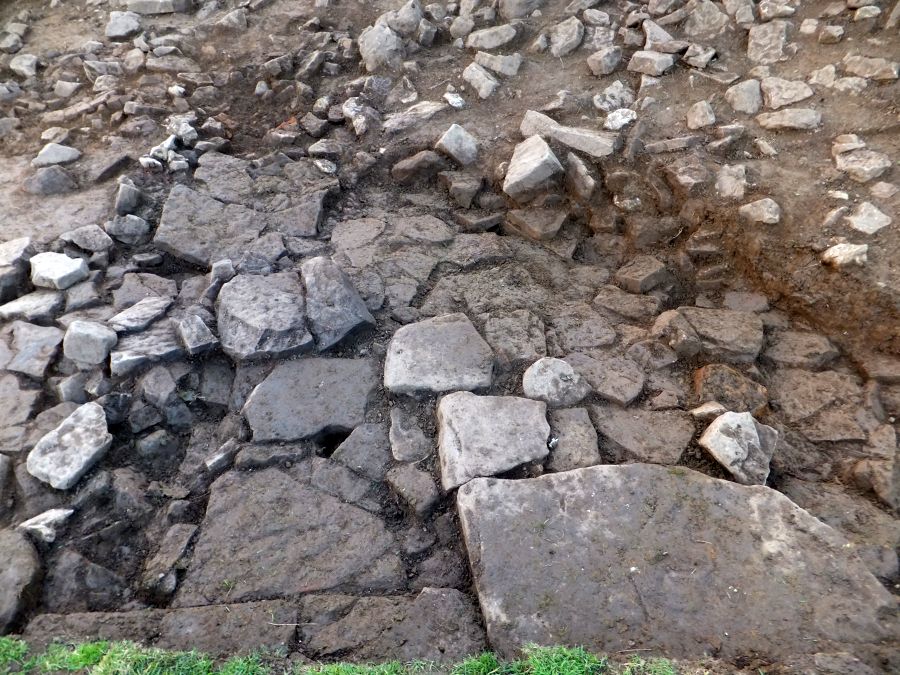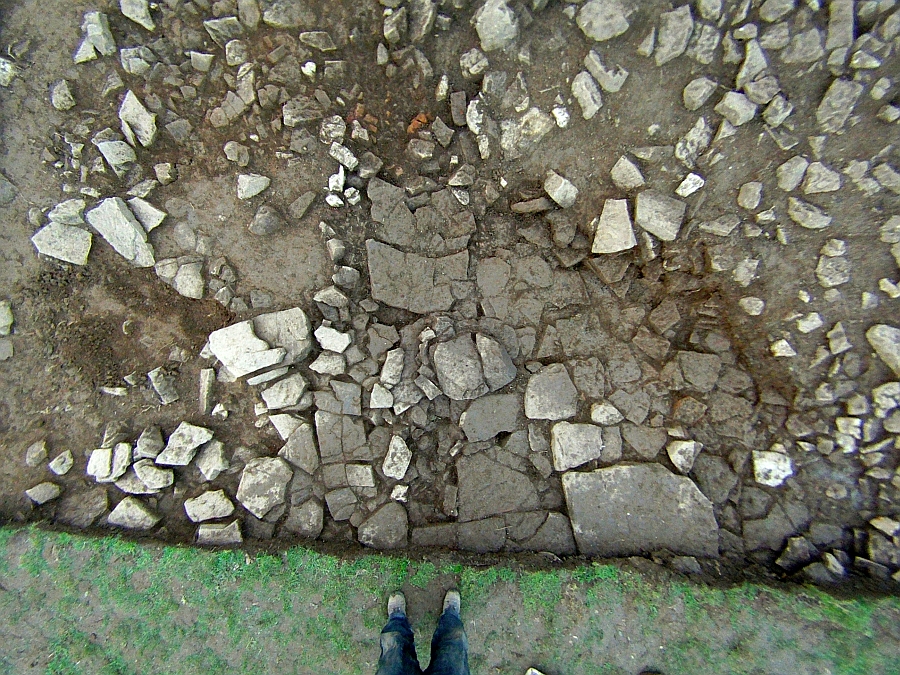 Day 5 Nov 9th
Day 5 of this autumn dig was a little damp. The site got rather slippery. We spent a lot of time cleaning and recording both trenches. No new excavation was done in Trench 4. Trench 2 did see a final burst of excavation and sampling. A few more nice shards of Romano-British pottery were found together with a couple more finds photographed below: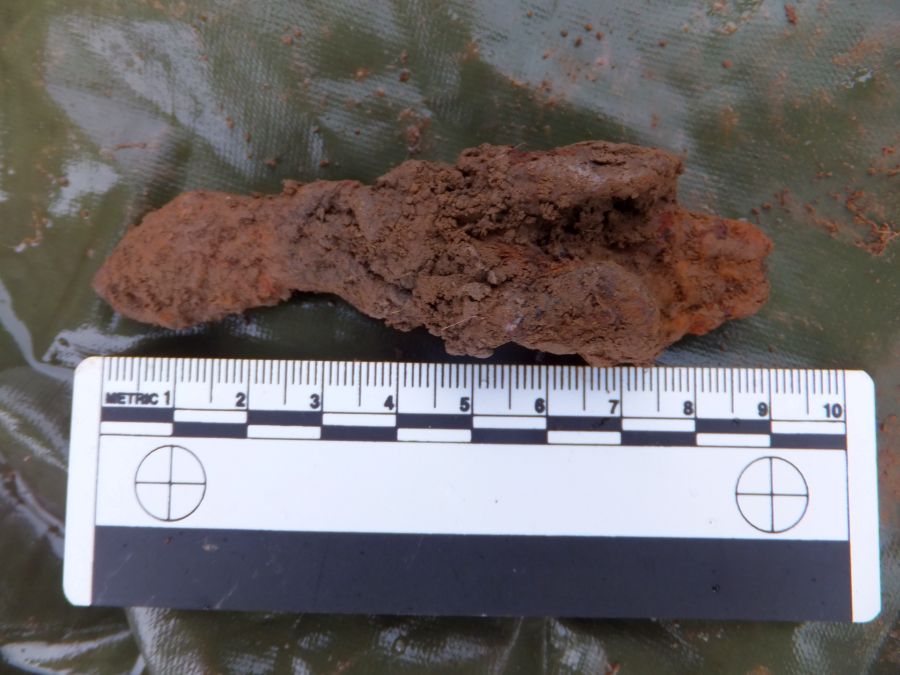 A metal tool or weapon that appears to have had a wooden shaft or handle.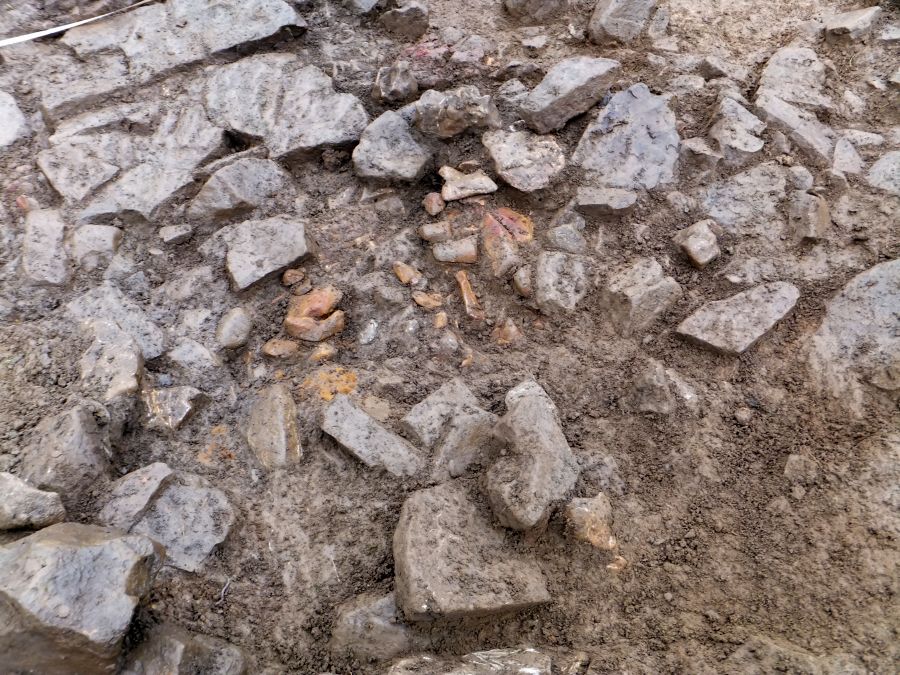 ?fire reddened stones locate outside of a nearby roundhouse which appeared to have a western entrance. Some of the pottery shards were found nearby.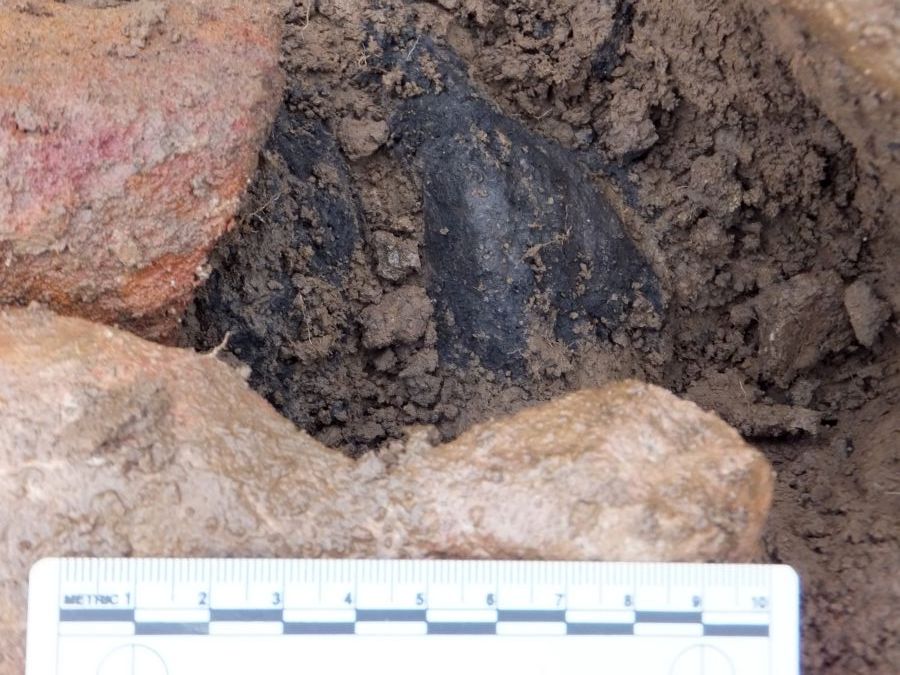 We weren't sure what this was as it was relatively soft but hoped that it was pottery but alas it wasn't. It has been sampled for analysis. We wondered if it was something like compressed carbonised peat material or something similar.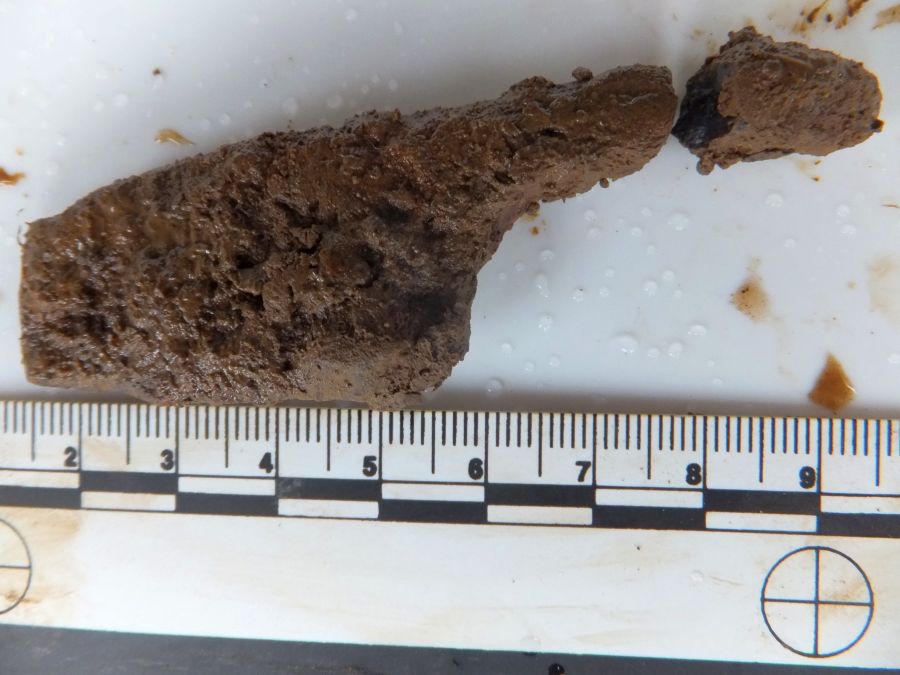 The last find of the day was this knife blade.
Backfill Day
This Blog is going to be kept in chronological order, so click these links to go to a particular day:
November
:
5th
6th
7th
8th
9th
Backfill day
©SWAAG (swaag.org) 2012
Images © S Eastmead (swaag.org)
Video © M Walton (swaag.org)
Use the Contact page for © permissions.