The Swaledale Project: Grinton Mounds
Just to the east of Grinton and on the south side of the River Swale are two glacial mounds. These have been called various names: Ox Hill / Grinton How / Grinton Fort. They are on private land.
They appear to have been a fortified settlement during some period, but it is not know if they are Pre-historic, Roman or Medieval. All have been suggested.
The western mound nearest to Grinton (SE 0489 9849) is the site of a 'Cold-War' Royal Observer Corp bunker used during the period 1965-1991. Whilst the surrounding earthworks appear to be intact, the top of the mound has been archaeologically compromised.
The eastern mound cannot really be called a defended settlement as the southern approach is nearly on the level.
The mounds are located at the western end of a large permanent grass pasture. At some point in the first part of the 20C a 9 hole golf course was located in this field. Interpretation of survey data will have to bare this in mind.
Please view the Grinton Mounds Activities page for Project details and initial results.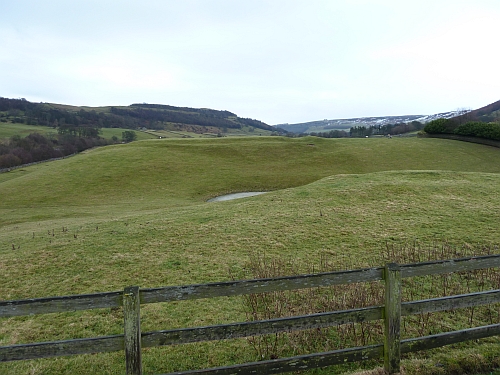 Eastern Mound including pond located in-between the 2 mounds.
Royal Observer Corp fence in the foreground.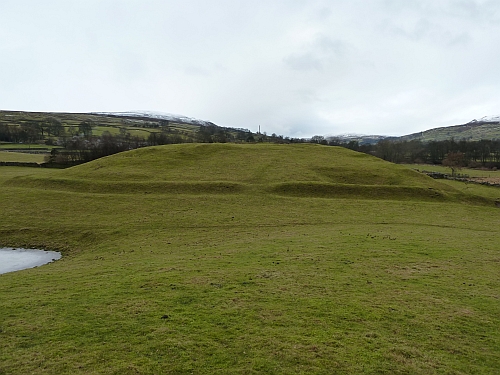 Western Mound with Royal Observer Corp post.