Percival Turnbull, FSA, a pillar of the Teesdale Archaeological community has died suddenly, aged 62. The following Obituary Notes and Reminiscences have been written by Tim Laurie, FSA, a friend and colleague of Percival:
The following reminiscences are my own and since I am not familiar with his more recent work as Consultant, they are not comprehensive.
Percival was a good friend especially during the years that I lived at Barningham. I first met Percival when he worked in the Planning Department at NYCC as assistant to Mike Griffiths, the NYCC County Archaeologist. One rather younger Robert White also worked in this Dept. at that time.
I am reasonably familiar with Percival's earlier work having visited and worked as a very part time volunteer on several sites he directed. One notable fieldwork project completed with Percival was the recording and Scheduling of probable Ring Cairns that I had previously listed within this area.
I have great admiration for his formality in approach to Prehistory and Archaeological Method.
Percival was first of all a Roman Scholar. Jointly with Colin Haselgrove, Percival supervised on behalf of Durham Unive<![if !vml]>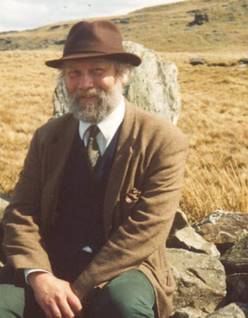 <![endif]>rsity, the very significant program of excavations at the Stanwick Earthworks during the years 1981-1984. This excavation Project extended and greatly enlarged Sir Mortimer Wheeler's 1956 Festival of Britain Year excavations within The Tofts, Phase One of the Stanwick Earthworks. Percival also excavated further sections through the great earthwork ditches.
Reference: Haselgrove, C.C. and Turnbull, P. 1981—4. Stanwick: Excavation and Fieldwork. Interim Reports.
This work resulted in a re-assessment of the sequencing of the different conjoined earthwork enclosures which together form the Stanwick Iron Age Fortifications Reference: Percival Turnbull, 1984. ' Stanwick in the Northern Iron Age.' Durham Archaeological Journal. Volume 1, 41-50.
His joint essay on Cartimandua, Queen of the Brigantes, and of the dramatic events which beset her household during the middle decades of the first century AD centred on Stanwick as a focus for an examination of Tacitus' all too brief first century soap opera (Percival's words!).
Reference: 'The Politics of Brigantia' (Percival Turnbull with Leon Fitts 1988. British Archaeological Reports British Series 193, 1988 pp377-386.
Percival then continued to complete excavations at significant Romano British Settlements located on the line of the A66 and near Melsonby.
Percival's work and publications were not confined to the Roman Occupation of Britain.
His initial recognition of the Oddendale Ring Cairn, from a small fragment of cremated bone in a molehill and slight circular stone bank close to the advancing edge of Hardendale Quarry, was a masterful instance of fieldwork. Subsequent excavation proved the ring cairn to be the final phase of a multi period complex. Excavation of the bank of this ring cairn produced pottery of Second Millennium BC, Bronze Age character and revealed the underlying double ring timber post circle radiocarbon dated to the earlier Third Millennium.
His detailed publication of the relevance of this multi period ritual complex firstly to Neolithic Communities as the timber post circle then, perhaps a millennium later, to Communities of the Bronze Age has established this site as the Type Site for the several fine Ring Cairn sites recently recognised on the NE Pennine Fringe, notably perhaps the Harker Mires Ring Cairn.
Reference: Percival Turnbull and Deborah Walsh, 'A prehistoric ritual complex at Oddendale near Shap'. Transactions of the Cumberland and Westmoreland Antiquarian and Archaeological Society. Volume XCV11, 1977.
I first met Percival when, as a precursor to the planned second campaign of excavations at Stanwick, Percival excavated a square mound close to Stanwick St John, Kirkbridge Farm which he believed could be a local example of the Square Barrows of the Parisii Tribe which sometimes contain chariot burials. No such luck with this fine square mound. The mound covered the fine cruciform beams of the foundation of a Medieval Post Mill. His language was spectacular.
Reference: Can't be found.
Percival had the best dry humour of anyone. He succeeded, as an undergraduate I think, in publishing a learned Paper with the Title 'The Phallus in the Art of Roman Britain'. Percival Turnbull 1978: Institute of Archaeology, London Bulletin No 15.
I shall miss him greatly and my great regret is that I had not called on him at his office in Barnard Castle recently for a pint and a chat. After which, I would always leave with the clearest views on any archaeological or other matters that I had in mind.
Tim